She had been thrown out of a car when she was just 8 days old because of her deformed snout ("wry nose"), a serious genetic defect which would not have allowed her to become a good "work machine".
Thanks to the donations received following a plea and because of her popularity on social media, we have been able to take care of  her and she gained weight and strength. Soon Emma will be forced to abandon the milk she was fed with until now and she will need to switch to adult feeding, but without a jaw surgery she will not be able to eat.
After evaluating the situation and the related risks with an international team of specialist veterinarians, we have decided to proceed with the intervention.
The little mare Emma will not undergo surgery in Cluj, but in a private clinic in Zetelaka, Transylvania.
The change was decided because the new structure offers more medical-sanitary guarantees, especially during the post-surgery hospitalization phase: we only want the best for Emma! There is more good news: Dr. Palle Brink, a Danish vet who operated several horses with this rare disease, will fly to Romania to coordinate the surgery.
The final date of the surgery probably will be Monday the 18th of November.
We excluded bringing Emma abroad because this would have forced her to stay for 30 days in a quarantine barn run by a public veterinary unit and we would never have entrusted Emma to strangers, risking seeing her deteriorate or being badly treated.
The foal weighed 27 kg when it was found and today, thanks to the bottle feeding made by our staff, and the vitamins, it has reached 104 kg.
The hospitalization period will go from 45 – 60 days. 
Needless to say, Emma will need you to overcome this.
Stay with us and especially with Emma: together we can give her a future!
If you had seen me you would have helped me for sure! But you weren't there, while I wandered lost on those huge streets as an eight days old little foal. My name is Emma and today I want to tell you my story.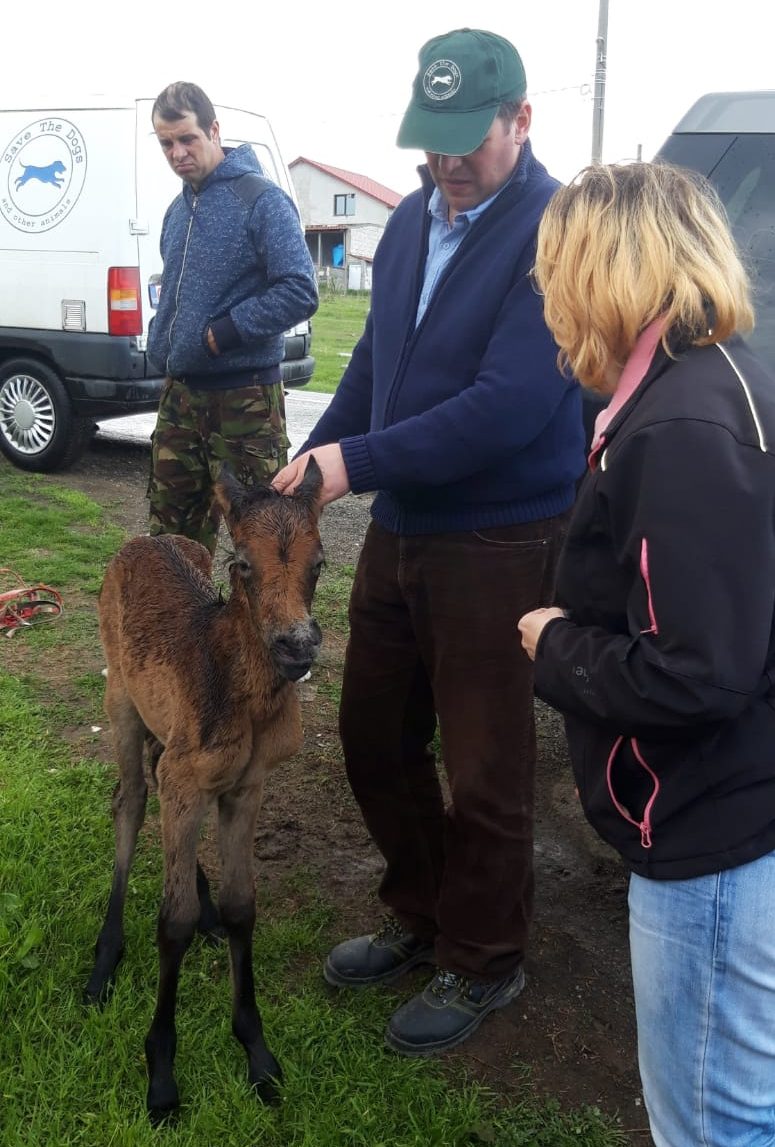 A few days ago my owner decided to get rid of me. I think he was convinced that because of my deformed muzzle, I could not become a strong and healthy mare, fit to pull the cart. He probably thought it was better to dump me somewhere.
I was only 8 days old when he took me away from my mom and loaded me in a car with two dogs that he used to keep on a chain in the yard with us. So he put us all on an old Dacia to take us away. Probably my owner didn't want the neighbors to see him while he dumped us like three sacks along the way, so he took us to another village where nobody knew him. We were all three lost and terrified!
You surely would never have abandoned us. Then suddenly my two dog friends ran away looking for food and I found myself alone. I was very afraid. I wandered for a while on those muddy roads but nobody seemed to notice me. I was transparent. But then suddenly a car stopped: a gentleman got out of the car and came up to me, stroking me: finally someone who noticed me …!
Then other people also approached us and a girl even tried to give me milk with her hands, because she realized that I was so hungry. Then there was a heated discussion among the people around me: they didn't know what to do with me. After a while, however, I heard that they were talking about an association that could possibly help me: I think it is called Save the Dogs and they found it by searching the phone (I don't really know how they did it).
I listened and I realized that the local police were talking to a doctor, a woman named Roxana. Despite being 100 km from the place where we were, the association had decided to help me: at that moment I realized that maybe I would have ended up in good hands! So, after an hour, this lady doctor arrived, along with another veterinarian.
Looking at my crooked teeth he immediately understood from the incisors that I was only 8 days old and I heard that he was talking about a certain Gregor, another foal found abandoned a few months ago, but he was bigger than me at the time of his discovery …
So they put me on the van, making me lie on a soft blanket, and Roxana sat with me on the back, not to leave me alone. She realized that I missed my mother very much and that I was so scared. After an hour of travel we arrived in a beautiful place: a true paradise! It is called Footprints of Joy.
They made me a straw bed and immediately brought me a bottle of delicious milk.
Farther away, instead, a few meters from my stable, I hear neighing of other horses: I don't know how many there are, but one in particular, that Gregor of which I had already heard, is very talkative and told me to be quiet, because here I'm safe.
He too was nursed for a long time last summer and had difficult moments (they had even put him on a drip from how much he was dehydrated, poor him), but now he has grown and he is very well.
My case, however, is a little bit more delicate: this crooked little face could create problems for me later, when my liquid food will become solid and I will have to start ruminating, and it is not clear if I will be able to chew properly forage. My future is still wrapped in uncertainty, but I know that YOU and Save the Dogs will do everything possible to help me grow despite this handicap that makes me so special. Thank you!

Emma