Marisya and Lidyia are finally reunited!
Marisya, a 14-year-old cat, fled from the war in Ukraine in the arms of her owner Lidyia. After a long and difficult journey into Romania, Marisya's voyage with her mistress came to an abrupt end.
Because of the current boarding regulations of low cost airlines, pets are not allowed to travel in the cabin with their owners who are fleeing the war!
See what we are doing to request a change in the rules and regulations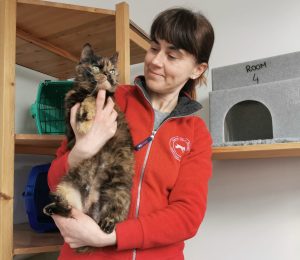 Thanks to Save the Dogs' intervention, Marisya did not have to be abandoned at the airport. We were able to welcome her at our shelter in Cernavoda and promised we would subsequently restore her to her owner in Germany. And thankfully we managed to do just this.
After a few days at our shelter, Marisya was driven to Germany by some of our staff members who were also dropping off a number of dogs that had been adopted. Marisya and Lidyia were finally able to be together again! This is the second time that such a reunion has been made possible thanks to Save the Dogs' efforts at the border and at Bucharest airport, helping people flee the war with their pets.
If Save the Dogs had not stepped in to help, Lidyia would have had no choice but to part with her cat forever. We know that many people are unfortunately finding themselves in this same situation due to the boarding rules of low cost airlines.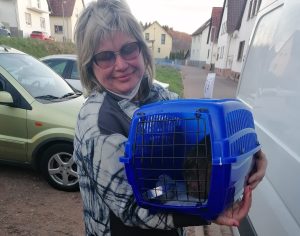 On 12 March Save the Dogs, together with seven other Romanian organizations, launched an international appeal to the low cost airlines, asking them to amend their transportation and boarding regulations, in order that animals and pets arriving from Ukraine may be taken on board with their owners, with the only criteria being the safety and comfort of both the individuals and their pets during the flight, rather than adherence to the standard company policy.
Following the launch of the appeal at an international level, Save the Dogs has decided to ask people living in Italy to help apply further pressure by likewise demanding an amendment of Ryanair, Wizzair and Easyjet's boarding regulations.
Please read and sign our appeal!