Summer 2017 was particularly complicated for Save the Dogs.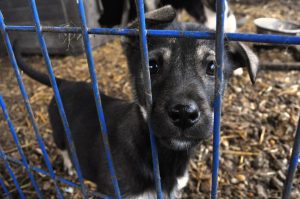 After days gone fearing the start of the cull and dramatic moments during the new flooding, in the last weeks we had to cope with a new emergency: the record number of abandons to our centers. Between June and August, 146 animals, mostly puppies, were found tied outside our structures or tossed over the fence.
The abandons are quite usual in the area in which we work, but we believe that the increasing of the phenomenon is due to the attempt to save as many dogs as possible from who fears new interventions of the dog catchers. A larger number of people, as the matter of fact, is aware of the effectiveness of our work and they travel from villages a few kilometers far away to bring us the dog, convinced that they will be safe with us.
The puppies need a specific diet, and to be tested against the main diseases, cured in some cases and spayed and all these operations increased our expenses.
We want to thank all the friends that in these weeks understood our difficulties and donated to us generously, helping us raise almost 11.000 euros!