The ambassador of Italy in Romania has paid our shelter a visit
In helping animals, we are also helping people. And conversely, by helping people we can also help animals. This is the principle on which all of the work we do at our clinic in Cernavoda, Romania, is based.
This month we had the privilege of talking about this in person with the Italian Ambassador for Romania, Alfredo Durante Mangoni, who came to visit us at the clinic and was impressed by everything we have so far accomplished.
The Ambassador immediately noted the care we put into trying to create a balanced and positive correlation between humans and their environment, and described the work we are doing as a perfect example of Italian best practices. For us, building an equitable society for each and every one is of paramount importance.
Our clinic not only offers the best possible standards of veterinary and animal welfare, but it is also a meeting place for the local inhabitants.
This starts with our own employees. We have about 50 people working all across the facility every day: from dog educators and veterinarians to all the dog workers and staff who work with equines. Each and every one of them receives ongoing training, which enables us to achieve two equally important results: on the one hand, all of our animals receive the best possible treatment, and on the other, all our staff members have access to unique opportunities. 
This same principle also underpins the activities we carry out on the ground with the local residents. We provide free veterinary care and services for the most disadvantaged members of the community, such as sterilizations, checkups, and routine surgeries, and we take advantage of every possible moment to raise awareness about animal rights, to emphasize the importance of respecting other species and to encourage responsible coexistence with pets.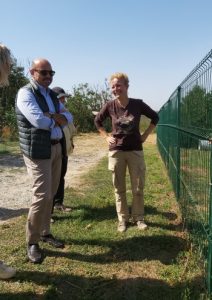 During his visit, the Ambassador was also impressed with the protocols we have set up. Every animal that enters our clinic is provided with detailed documents that track its origin and report the medical care administered to them. Transparency is of paramount importance to us, and it is also this aspect which sets us apart from other entities.
The last part of the shelter we showed him was the area devoted to horses and donkeys. Those of you who have been following us for a while now know that our equine sanctuary is home to some real characters, who did not fail to disappoint us again this time. Emma, for example, the horse who sustained injuries to her muzzle on whom we operated a few years ago, did not hesitate to come over and find out what was going on. She was more than happy to take advantage of the situation and become the centre of attention.
Watching the ambassador stroll around the rooms of our shelter, listening with interest to the stories of all the residents and asking us questions and more details about everything, was a real thrill for all of us.
It was also an invaluable opportunity to inform the government about all the good things we have done so far. And, even more importantly, it was a way of letting them know what we would like to do in the future.