TOO MANY PUPPIES – Brand new equipment for the Castelvolturno outpatient clinic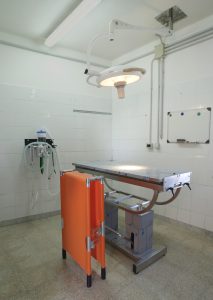 Since the beginning of 2022, we have been collaborating with a new partner at our "Too Many Puppies – Campania" program: the San Francesco Dog Shelter Association, which operates in Castel Volturno.
The facility was founded in 1965 by a group of volunteers who were very active in taking care of the many stray dogs in that region of Italy. Since 2015, it has been run by the San Francesco Dog Shelter Association, with whose help we have been conducting a sterilization program since March 2022 in an area that is tragically affected by the phenomenon of stray dogs. The shelter houses around 200 dogs and, thanks to the tremendous amount of work carried out by its employees and volunteers, offers numerous areas where the dogs can stretch their legs, an infirmary where all therapy work can be performed and a small clinic where the sterilizations are handled. It is precisely in this area that Save the Dogs wish to invest and have a greater impact: between February and September we have already carried out 54 sterilizations, but we would like to increase both the quantity and the quality of the equipment at our disposal. 
For this reason, we have purchased:
a veterinary anesthesia gas machine, considered to be one of the safest techniques for maintaining general anesthesia. The impact on the body as a result of having gas anesthesia is significantly less, and in addition the animals awaken sooner and have a faster recovery time;
an oxygen concentrator device that ensures greater safety and reliability in delivering oxygen to the animal during the sterilization process;
a new hydraulic operating table that is more suitable for sterilizing larger animals in particular, of which there are many in this region;
a trolley for the surgical instruments needed during the sterilization;
a stretcher that enables staff to move animals around safely within the clinic, both before and after surgery

 
Furthermore, from October, we will have the support of another veterinarian, which will help us to increase the number of sterilizations we can conduct, so that we can become more and more of a point of reference for the local community.
Expanding our facilities in the south is critical for achieving the goals outlined by the "Too Many Puppies" project: we need to sterilize as many animals as possible, thereby reducing the number of strays that would otherwise suffer a life of misery on the streets.