Volunteers in times of war
Solidarity at the border
Caterina is one of more than 40 volunteers who have been donating their time and solidarity in weekly shifts since 15 March to people fleeing with their animals at the Isaccea border point.
When Caterina first contacted Save the Dogs to offer her willingness to volunteer, she imagined that she would be helping from her home and base in Milan.
However, when war broke out she did not hesitate to accept the call for help in support of the Save the Dogs staff who had been committed since 4 March to assisting animals fleeing from Ukraine with their human companions.
"I arrived at the border between Romania and Ukraine at the beginning of April.
Hordes of people, exhausted by the long and difficult journey through war zones, were arriving on ferries that crossed the Danube dividing Romania and Ukraine.
They were mostly women, children and elderly people, and many were traveling with their pets, and had had to leave their homes suddenly and with no other options open to them. Those who had physically experienced the bombardments were in a state of stress, fear and despair that you could read on their faces, even before you spoke to them", Caterina told us.
"Being in Isaccea has carved a deep furrow in my heart. Being able to offer comfort as opposed to weapons and destruction is well and truly an unforgettably important experience".
Among the countless animals Caterina helped, she particularly remembers Olga's cat, who arrived in a state of exhaustion after the endless bicycle ride with his owner from Donbas to Isaccea, passing through Mikolayiv and Kiev. Olga is a psychologist who specializes in juvenile issues and, until forced to flee, Olga had provided support for many of the children caught up in the conflict.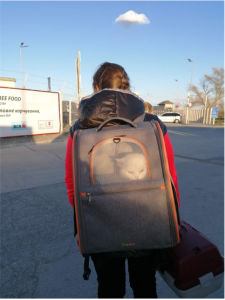 "At Isaccea, the Save the Dogs volunteers gave Olga and her cat every kind of assistance we possibly could. The cat was able to stretch his legs in a spacious area specially made available for all animals that arrived tired and stressed from their journey (often transported in small carriers or cages, or carried in their owner's arms, with short leashes and tight collars, in bags, holdalls or squashed into caddies), and was fed and watered.
In the meantime, Olga was able to rest while she was cared for by volunteers from the various humanitarian organizations, all offering precious help: it was a wave of goodness providing care and support wherever it was needed.
We then accompanied Olga and her pet to the assisting veterinarians so that they could carry out a medical examination and supply the cat with an international passport, required vaccinations, microchipping, etc. Everything was done that was necessary for the cat's well-being.
Last but not least, Save the Dogs provided Olga with a backpack, harness and leash to help her transport her inseparable pet during their ongoing coach ride to Bucharest
Before getting on the coach, Olga came back specifically to the Save the Dogs station for a final goodbye and to thank the volunteers again for our help. She gave me one of the most affectionate and heartfelt hugs I have ever had. Bon Voyage, Olga, and we hope you are able to return home soon safe and sound".
Help amid the rubble
Since 24 February, their lives have not been the same. They used to have a job like everyone else, but now they are volunteers in the homeland, caring for people in need and the many abandoned animals.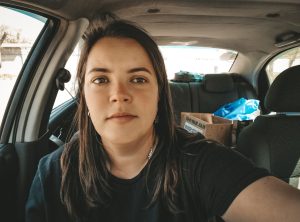 In the areas where fighting is taking place, you have to wear a bulletproof vest when you go out and, as well as the risk of being bombarded, landmines are scattered all over the territory.
None of this, however, deters the many volunteers, who risk their lives every single day taking food and water to the animals who have been abandoned and the thousands of strays who are roaming about in now deserted homes. One such example is Tatiana, a photographer and video maker, who is distributing humanitarian aid arriving at the official collection point in Mykolaiv together with a group of volunteers.
It is only thanks to the tremendous selflessness of people like Tatiana that Save the Dogs can continue to feed more than 4,000 animals to whom, to date, we have sent 100 tons of food, giving them life-saving supplies at the worst possible time of their lives.