Bielka, the Chihuahua from Kherson, is reunited with her family in Tulcea in Romania
Fleeing the bombardments in Kherson with her daughter, granddaughter and two small dogs, a grandmother, aged 83, who was already suffering from heart problems was suddenly taken ill, had a bad fall and broke her pelvis.
The only possible solution under the circumstances was for daughter Olya to quickly gather up her family's most essential items and set off by car with them and with the two little dogs in tow, headed in the general direction of Romania. Her sole objective: to get their grandmother Galina to a hospital so that she could be safely taken care of.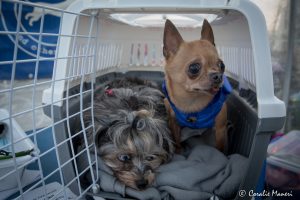 After a long drive of more than fifteen hours, they finally arrived exhausted and completely drained at Isaccea, the Romanian border town on the right bank of the Danube.
Here, the family had to continue their journey on to the nearest hospital, but the grandmother could only take one of the small dogs with her. It was not possible for Bielka to go too, and Olya had no idea where she and their pet could spend the night.
She didn't even know if the place where they would stay would accept the dog.
The family were directed to our welcome station and as soon as we heard about the problems they were having, we proposed that Bielka stay with us so that the rest of the family could look for accommodation, given their long journey and the difficulties they had already faced to get this far. We reassured them that we would reunite them all together as soon as possible, and restore Bielka back into the fold.
Bielka spent the night safe and sound with one of the volunteers who help families arriving at Isaccea every day.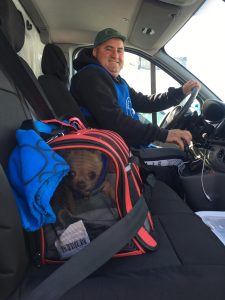 We witnessed firsthand a family that had been torn apart by war, yet that was very united and attached to their dogs. To be able to see them all together again was a cause for celebration for all of us.
The very next day, Save the Dogs organized for Bielka to be taken to Tulcea in Romania to be reunited with some members of her family, while they waited for their grandmother to be released from hospital.
This is the third time since the beginning of the conflict that the Save the Dogs team has been able to reunite pets with their loved ones. Over recent weeks, two cats have also been able to join their owners in Romania and in Germany.
Thanks to the generosity of our supporters, and the tireless work of our staff and volunteers, we are able to be present all day and every day at the border of Isaccea, offering relief aid to people fleeing the country with their animals and distributing essential goods.