Despite the pandemic, it was 'business as normal' at our clinic in Romania
While in many ways 2021 has not been the year of full recovery we had hoped for, with the Covid-19 emergency still affecting everyone's daily lives, the
Save the Dogs
team in Romania has been able to continue to work at full speed, albeit with the enormous and still unresolved problem of sourcing qualified veterinarians and personnel.
2021 marked a turnaround compared to the previous year, with the resumption of sterilizations at an almost pre-pandemic level. 1,158 sterilizations were carried out (563 dogs and 595 cats), of which 47% were privately-owned animals, 29% were strays and 24% were animals that entered our shelter and were subsequently handed over for adoption abroad.
A determining factor in reaching these high numbers were the 'spayathons', days entirely dedicated to sterilizations with the help of veterinarians from other Romanian cities, and we will be repeating and extending these events in 2022 between the months of April and October.
We provided emergency care for 243 animals in our clinic, with an increase in the number of cases compared to 2020. This was thanks to increased and ongoing activity on the ground, which enabled us to intervene in most of the cases reported during the year, and so often made the difference between life and death for a great many animals in need.
Fifty-eight percent of all emergency cases involved stray animals, while 42% concerned privately-owned animals.
Last but not least, 272 animals started a new life with a family thanks to the invaluable work of the adoption team. This represented 24 more adoptions compared with 2020. While Sweden remained the country which welcomed the largest number of dogs, Italy was the top destination for the adoption of cats (68 of the total number).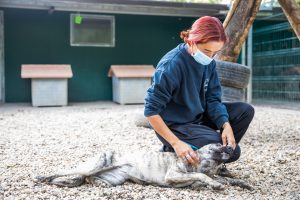 All of these numbers go to show that we never stopped moving forward in 2021. During this difficult period when the pandemic was as virulent as it had been the year before, we not only managed to keep going, but our output increased and indeed we will always keep working as long as there are animals waiting to live the dignified life they deserve.
We will continue to strive every day in the assurance of the irreplaceable help of all the supporters and friends of Save the Dogs who make everything possible.