Lulia and Sofie saved, thanks to your help
A rented house abandoned by its owners.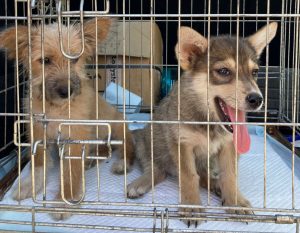 A yard full of garbage and broken furniture. But something else was left behind along with all the rubbish.
Namely, two puppies called Lulia and Sofie, and a number of cats. They were simply left behind, discarded just like the trash.
Lulia and Sofie's story is a tragic one that we know all too well, especially during the summer time with the increase in the number of new litters.
However, thanks to the extraordinary contribution of the supporters of Save the Dogs who responded with such generosity to our request for help, life will undoubtedly be much improved for these two puppies.
After receiving a call from the neighbors, we were able to rescue the two puppies and the kittens, and we have welcomed them all to our clinic.
Watch the video of the rescue operation


When we first approached Sofie, her eyes were filled with the fear and bewilderment of her abandonment. But we know that those eyes will soon be smiling again.
The two puppies have been taken to our clinic, where they will receive all the care they need to be able to start a new life with an adoptive family as soon as possible.
Thank you to all our supporters and friends, because with your help we will be able to face this difficult period when our clinic is full of rescued puppies in need of care.
Thank you for not abandoning us!