Rescue in Romania – the story of Chappy and Maia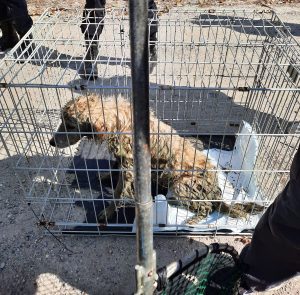 After falling into a deep canal, Chappy (as we named this adorable stray) would not have stood a chance of surviving had it not been for the joint intervention of our operators and the fire brigade of Cernavoda.
He was very lucky to have been spotted by a member of our staff – and even luckier to have survived such a dramatic event.
Rescued by the fire brigade, this little dog – freezing cold and clearly terrified – was taken straight to our clinic, where he was rehydrated and received first aid treatment.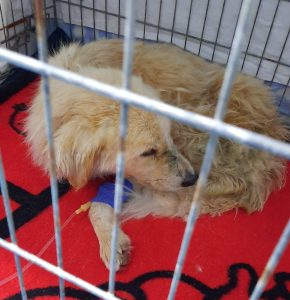 After initial tests, Chappy tested positive for heartworm disease.
He will therefore stay with us for a while until his health improves. Only then will we look for a family to adopt him.
Chappy has already won over all our staff with his sweet, friendly character. He enjoys going for walks with our staff, his slight fearfulness won over by a healthy dose of curiosity!
Watch Chappy going for a walk with our team members
Like Chappy, Maia will also be lucky enough to start a new life with a family that will take great care of her.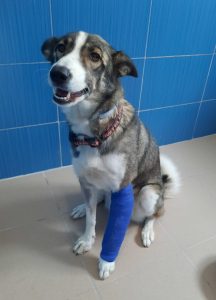 When we rescued her, Maia had suffered terrible fractures in different parts of her body as a result of a road accident.
Her owner had not taken proper care of her and had left her to roam freely, thus exposing her to the dangers of the open road. However, thanks to the alert we received and the immediate medical assistance we were able to give her, Maia is now out of danger!
Released by her owner, Maia is now officially a resident at our sanctuary. We need to wait a few more weeks while we monitor her progress, but we feel confident that she will make a full recovery.
And as soon as she is completely back on her feet again, we will be able to look for a family so that she can begin a new life with them.