The Margherita D'Argento 2022 has been awarded to Sara Turetta
The Founder of Save the Dogs and Other Animals received the award from The Trieste Cattery Association, established in honor of Margherita Hack. The award ceremony took place on 18 June. 
Sara Turetta, President and Founder of Save the Dogs and Other Animals, has been honored with the Margherita D'Argento 2022 prize. Now in its 19th edition, the Margherita d'Argento is the annual award presented by the Trieste Cattery Association to a female with a great love of cats, who shares the organization's aims of caring for and sheltering stray animals.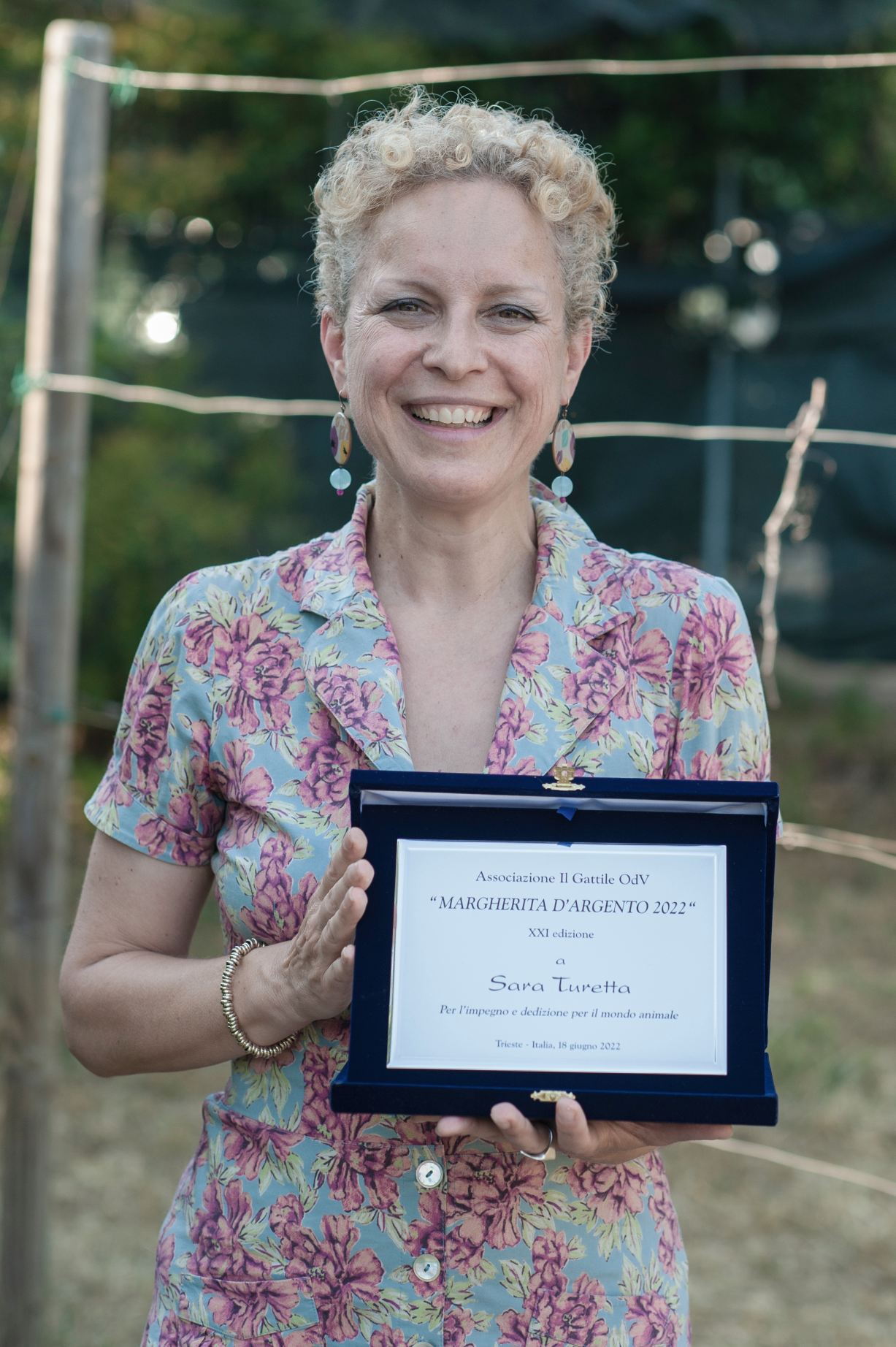 The prize was established in 2001 to celebrate the birthday on 12 June of founding member Margherita Hack, an extraordinary woman who, in addition to being a celebrated astrophysicist, was also a huge cat lover and animal activist. Following on from Brigitte Bardot and author Susanna Tamaro, who was honored last year, the baton now passes to Sara Turetta to continue to sew the invisible but solid thread that unites these women: a love for animals and hands-on campaigning to help change the destiny of those who are most vulnerable.
Sara Turetta, an international animal rights activist, has received numerous awards for her efforts, including being named Knight of the Star of Italy ('Cavaliere della Stella d'Italia') by the President of the Republic in 2012. It all began twenty years ago. Sara was working in a prestigious advertising agency in Milan when she chose to resign after an eye-opening trip to Romania in 2002. She moved to Cernavoda to start up a number of projects tackling the phenomenon of stray animals, with the objective of wanting to change the fate of animals destined to be put down in the country's public dog pounds. Save the Dogs and Other Animals was born, and since then Sara has been dividing her time between Italy and Romania, running the association's Milan office and lobbying both nationally and internationally. During its 20 years of activity, the association has become a benchmark for combating the canine and feline overpopulation that is caused by human beings, which is responsible for both the endemic situation of stray animals in certain territories and also the elimination and imprisonment of millions of cats and dogs in shelters around the world.
"I am truly honored to pick up the baton passed on by these two extraordinary women with whom, by the way, I feel extremely connected. Brigitte Bardot, with her personal advocacy in Romania, has been a great source of inspiration to me. In fact, it was after reading about her battles to stop the slaughter of stray animals that I decided to move there, as I felt compelled to take action.
Today we actively collaborate with the Brigitte Bardot Foundation on the Ukraine emergency and other issues. A beautiful friendship was born with Susanna Tamaro, because we share not only a boundless love for animals but the same vision of life and the world. I would like to thank 'Il Gattile' for this recognition, which is a real incentive to move forward with determination and tenacity", commented Sara Turetta, President of Save the Dogs.