"The right side of the skull and both front legs deformed: this puppy is a challenge for us but we have to give her a try."
With these words our vet from the clinic in Cernavoda introduces us to yet another case of abandonment. This time it is about a 11 months bull terrier puppy.
She can barely stand on her feet: highly stunted, Cricket finds it hard to walk. Even simple movements such as climbing stairs are very difficult for her.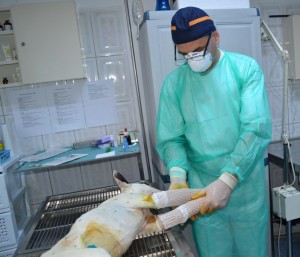 At the time the puppy is following a specific therapy, including medications and physiotherapy, which represents a major burden for our association.
Nevertheless we decided to give her a chance, confident that our supporters will help us once again to change the life of an animal in distress.
Update May 2016: Cricket was adopted in Sweden!