Adoptions abroad – Controversy in Italy
Sara Turetta's declaration
Panic has broken out following contacts between Catania's municipal administration and a number of associations with a view to having German families adopt a certain number of dogs kept in the city's approved kennels. The longest-running item of fake news appearing on the web in Italy has once again reared its ugly head, incorrectly stating that dogs are sent to Germany for vivisection purposes.  This false rumor has fueled what we can only call a veritable psychosis. The ENPA (Ente Nazionale Protezione Animale or 'National Animal Protection Agency') has published unfounded news about German legislation on its Instagram page, to which I wished to respond immediately – watch the video here.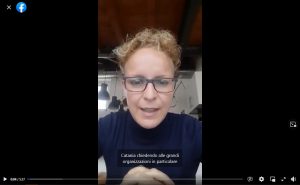 Leaving to one side the specific story and its protagonists, I wish to firmly reiterate what we have been confirming for years, namely the fact that euthanasia is legally forbidden in Germany, and that the transfer of cats and dogs from shelters to medical research laboratories is not permitted.
I can personally bear witness to the excellent condition of German shelters and to the fact that it is our responsibility to collaborate with foreign organizations able to help us alleviate the suffering of so many Italian and Romanian dogs that would otherwise have no future.
There are over 1,280 dogs confined in different kennels in Catania, and it is our belief that the ENPA and the voluntary sector should instead be scandalized by these appalling numbers, rather than by the fact that some of these animals should be able to envisage being able to begin a new life in one of the most advanced countries of the European Union – in full compliance with the law and with all the necessary guarantees of transparency and traceability.
Watch this space on the Save the Dogs website, as we will shortly be introducing a section entirely dedicated to adoptions abroad, a theme that is dear to our hearts because for years we have enjoyed partnerships in Sweden and Germany, and we understand the European reality very well indeed.
I would like to conclude by saying something that may seem obvious but which does not seem to be the case for all the realities operating in our sector: Save the Dogs has the absolute well-being of all animals at heart, and does not believe in ideological barriers or meaningless nationalism. We feel part of Europe, we have been working for years with other foreign organizations, and we are strongly convinced that networking can only be advantageous for the animals we so keenly desire to help.