Italy
Meeting with junior high school students at the A. Schweitzer school in Turin
Education project
On 7 June, Sara Turetta was invited by the teachers of the A. Schweitzer junior high school in Turin to meet a group of students who were enthusiastic about reading her book "Dogs are my Life".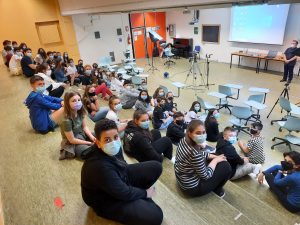 Our President talked to the group about the commitments and work that Save the Dogs conducts in Italy and in Romania, showing them videos and answering the students' questions. The real star of the morning, however, was little Amelie, whose story of a dog being liberated from wearing a chain echoes that of the dogs in so many Italian regions where we are trying to change the law. Special thanks go to the Art teacher, Cristina Repellini, who introduced Sara and Save the Dogs to her school.

The A. Schweitzer junior high school students also produced a wonderful video (in Italian), creating a collection of drawings and essays inspired by the work of Sara Turetta. Their reflections and ideas are very moving, and demonstrate the incredible humanity of their young minds and hearts.