Romania – Our support of dogs living in impoverished villages continues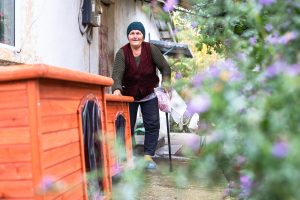 To date, we have been able to assist 26 families by providing them with kennels and food for their dogs.
This vital work has enabled us to identify situations where our ongoing help is most urgently needed.  Cases like that of Signora Nicolina, an elderly lady who lives with her two dogs, Axel and Toby.
In addition to the initial distribution of a new kennel and food supplies, we pay regular visits to Nicolina to ensure her dogs are being well fed. Nicolina lives on a meagre pension and our help is vital for her to be able to continue looking after her beloved animals.
WATCH THE WELCOME AXEL AND TOBY GAVE US ON OUR ARRIVAL
Like Nicolina, we have identified other similarly critical situations that we will continue to monitor even after the winter period is over.
However, our intervention is not limited to ensuring these families receive only the basic necessities to tackle the coldest months.
At the same time as we hand out the new kennels, we are also promoting the importance of sterilizing the dogs, as well as monitoring their general well-being and offering medical consultations wherever necessary.
Considering how difficult it is for people with a limited culture of animal healthcare living deep in the countryside to have access to private veterinary clinics, it is essential that we maintain a strong presence in these communities to ensure greater well-being for cats and dogs.