Connecting Lives: we welcome young visitors and inmates to our shelter for the first time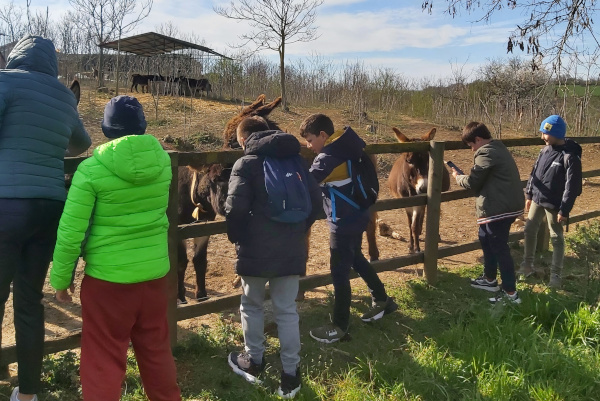 Two of the Connecting Lives program's most important projects are now up and running. We were thrilled to welcome young visitors and inmates for their first visit to our shelter in Cernavoda this April.
We were overjoyed to watch everyone's eyes lit up during the visits: the children's as they played with the dogs, the inmates' while they took care of the donkeys, and the animals' as everyone interacted so freely with them.
These encounters were all organized at our Footprints of Joy shelter as part of the Connecting Lives program we launched in February 2023 in Cernavoda in Romania.
They were held at different times using a variety of different formats, but the objective was always the same: namely, that of fostering the bond that naturally connects us to animals and of raising awareness of their rights among both children and adults.
The children's visit to our shelter in Cernavoda
It was 9:45 a.m. when the bus pulled up in front of the entrance to Footprints of Joy. 18 pupils alighted in single file, excited to meet the residents at our center. During the visit, we explained the special characteristics of the donkeys and dogs in our care to them, showing them how to interact safely with them and how to recognize their needs. One of the highlights was definitely the hands-on workshop, where the children prepared environmentally-friendly treats for the donkeys using pieces of fruit and hay, and were then able to observe them during the animals' playtime.
We strongly believe that educating young children to respect and live in harmony with animals is crucial to positively influencing the next generation. Thanks to Connecting Lives, it has become possible for us to open the doors of our center and welcome visits from children aged between 9 and 11 who are attending schools in Cernavoda and nearby Cochirleni. Many of them live alongside dogs, cats and sometimes donkeys and horses; visits to our shelter therefore offer a perfect opportunity to show them how to interact empathetically with these animals and how to care for them. We hope that the protected environment of Footprints of Joy will be an inspiration to them and will spark the cultural change that is so desperately needed in these areas.
Our collaboration with Poarta Alba Prison is also off to a great start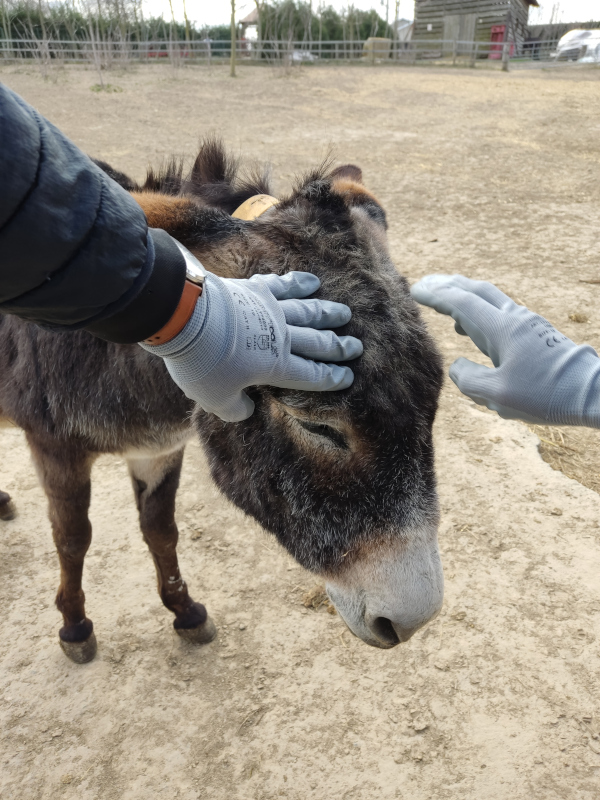 A few days later, we organized the first visit by inmates from the nearby Poarta Alba Prison who had a guided tour with Adriana Susma, the General Director of Footprints of Joy, during which they learned the rudiments of basic donkey care. They then helped us with some stable maintenance work, and towards the end of the day were able to enjoy a few moments of relaxation with the equines.
Working with animals allows inmates to acquire new skills, reduce stress levels and improve social interaction, all factors that will help them reintegrate into society once they have finished their time in prison. We have therefore formed an agreement with the Poarta Alba Prison for them to visit us on a regular basis so that they can help us with the animals and also assist us with the upkeep of the premises.
Added benefits for the animals
The animals are of course the first in line to benefit from these interactions. Donkeys are highly social and welcome human companionship. The treats made by the children were really stimulating for them, as was the time they spent with the inmates.
Enjoying playtime with the dogs is also considered extremely important at the shelter. We take care to select residents who are more amenable to human contact, and our dog educators are always present to supervise and guide proceedings. The animals really enjoy spending time playing with everyone, which in turn helps them develop new skills. And it goes without saying that they always bring a smile to everyone's faces, regardless of whether they are children or adults.