Helping the animals of poor families living in romanian villages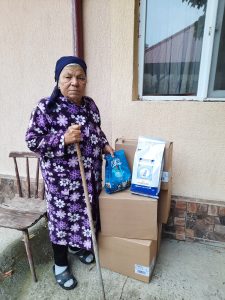 Signora Aurelia Sirbu lives with her cats in Dunarea, a village not far from Cernavoda in Romania. Her home is devoid of all the essentials: electricity, heating, food, medicine.
But Aurelia would do anything in the world for her cats. One day we bumped into her while she was hunting around for empty boxes: she had discovered that her pets liked to play with them and was desperate to find some larger ones so that she could shelter them from the cold night temperatures. Despite her huge financial difficulties, Aurelia has never stopped caring for her animals. 
It is almost as if cats know they will be safe with her. Aurelia has rescued dozens of them over the years, many of them arriving at her door in a terrible state. She has nursed them, fed them and even managed to find some of them a family to live with. 
In her garden there is a small gazebo where she feeds them every day. She leans on her stick as she fills a large container she has carefully placed under a table with food for them. "That way, even if it rains, it all stays dry", she explained to us. 
We pay a visit to Aurelia every month to provide her with the supplies she needs and make sure all the animals are in good health, as well as sterilizing them free of charge.
The last time we spoke to her she was very worried about the advent of winter. Aurelia knows it is the most difficult time of the year and is worried that she will not be able to give them enough food to enable them to cope with the freezing temperatures.
But this year Aurelia and other poor families in the villages will not be alone. Between November and February, they too will be the recipients of the food supplies we intend to distribute to them: 400,000 bowls to feed the animals who need it most.
A full bowl of food will restore life and a sense of dignity!