A new lease of life for dogs rescued from the war in Ukraine
During our last mission in Ukraine we met up with Olga, the founder of the Loving Hearts shelter in Odessa. This name will probably sound familiar to many of you: it is the shelter which we rescued 30 dogs from a year ago, including the now famous Tymon. After working with our educators, many of the animals were adopted in Sweden and are now living happily in their new homes. We decided to share their photos with Olga so that we could show her how they were all given a second chance. It goes without saying that her excitement was tangible.
Thirty dogs embroiled in the war in Ukraine exactly one year ago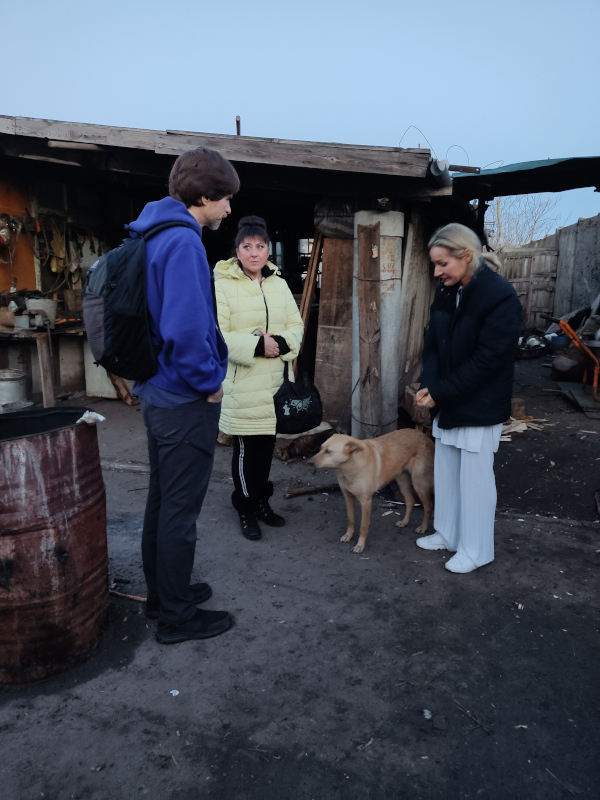 "Look at Tymon….! There's Diana! But that is Cleo…!". Olga recognized each and every one of the dogs as we browsed through the photos sent to us by their new families.
We remembered all too vividly the night they first arrived at Footprints of Joy, our shelter in Cernavoda, Romania. It was March last year and we were in constant contact with Olga, who traveled hundreds of miles to accompany the animals to the border. She had left Odessa at dawn with a driver and another volunteer to entrust us with her dogs after the Loving Hearts refuge had been damaged by bombing.
She kept getting cut off, so we didn't know whether they would make it or not right up to the very last minute. Being at her side in Odessa a year later, remembering those moments and showing her how happy her dogs are now meant so much to all of us.
The Loving Hearts shelter in Odessa today
Olga is still living in a war zone, but she has never stopped helping animals. We send her the food she needs to feed all the shelter residents and those she monitors locally every month.
Along with a group of volunteers, she regularly scours the surrounding countryside, looking for dogs and cats that need help.
The Loving Hearts shelter is fairly spartan. It has a small kitchen where wet food is prepared for the puppies. It contains some physical therapy equipment for animals with joint problems and several drinking water tanks that are regularly filled up. Because of the war, it is not uncommon for the shelter not to have any electricity or running water, so they have had to get equipped to deal with emergencies.
Olga's dream would be to build a larger exercise area where the dogs could run and play freely for a few hours. She would like to enlarge the enclosures, and on the day we visited her she told us she would like to "give them more space and an environment that really suits their needs".
Unfortunately, it is difficult for her to make any concrete plans for the future while the conflict is still going on. The only thing she can count on for certain is that our shipment of food will arrive on time every month to feed the animals.