Blocked by the Low Cost airlines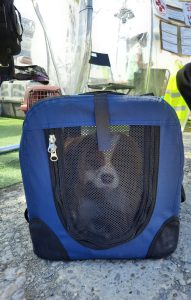 Together with 7 other Romanian organizations, Save the Dogs launched an international appeal to the low cost airlines on 12 March, asking them to modify the transportation and boarding conditions so that animals arriving from Ukraine could go in the cabin with their owners.
Following the international appeal, Save the Dogs has also decided to ask for help from people living in Italy, in order to put further pressure on Ryanair, Wizzair and Easyjet, so that they will change their boarding conditions.
Since the launch of the campaign, over 10,000 signatures have been collected in Italy, and a further 8,000 in Romania.
Despite this lobbying initiative, the low cost companies have not yet responded to our petition.
Many refugees traveling with their pets have been obliged to abruptly stop their journey because of the barriers imposed by these airlines, which are still not allowing animals fleeing together with their owners to travel on board.
This is why Save the Dogs' commitment cannot stop here.
Watch Sara Turetta's video to find out what we are going to do next.