CERNAVODA - MATTEO AND MELISSA ARE SAFE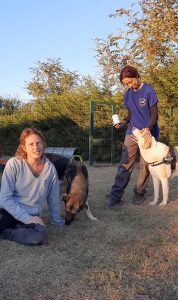 When the dog-catchers took to the streets in Cernavoda, we decided it was time to take Matteo and Melissa to the safety of our shelter. We started up the van and drove at full speed to the town centre, but when we first arrived we couldn't find them anywhere. We looked everywhere for them for over half an hour, terrified that they had already been caught. Then all of a sudden something moved in one of the bushes and a pink nose sniffed in our direction. It was Matteo!
The first time we met Matthew and Melissa was back in January 2020, when they would have fitted into the palm of our hands. Their mother kept them warm, sheltering in the dense vegetation, and we went to check on them every day to make sure the whole family was okay. 
Like all dogs born and raised on the street, the puppies were always very resourceful. They learned early on how to survive, how to get food and water, and how to recognize and avoid danger. Over the past three years, we constantly monitored them in the field, providing them with veterinary care on the rare occasions when it was necessary.
But one thing has always set them apart them from all the other groups we follow: from day one, they never stopped looking out for us, something that could now put them in serious danger.
The municipality of Cernavoda recently initiated a ruthless campaign to capture and eliminate stray dogs living on the city streets. It was a measure that Mayor Liviu Negoita reckoned would serve to help combat the presence of strays, but in reality it only worsens the situation and thwarts the efforts we have been making for so many years. 
Precisely because of their complete trust in humans, Matteo and Melissa were therefore in danger of being captured and taken to kennels, where according to current legislation in Romania dogs can legally be put down after 14 days.
It was not easy to find a place for them in our shelter, which is currently filled to capacity, but we managed to make room for them and can now watch them snoozing up close together, finally safe. We really hope that their friendly, open nature will also make it possible to find a family to love them as soon as we can. 
DOG CATCHER EMERGENCY – WHAT WE ARE DOING
ASPA Ivets is the name of the organization that the Municipality of Cernavoda has hired to capture dogs in the streets. We do not have a precise idea of their schedule, but it would appear that this kind of culling is not constant and it is not clear how long it will continue.  
On the first day the dog catchers were operational Save the Dogs rescued more than 20 dogs from certain death. Unfortunately, at the moment our center is also at maximum capacity because of the many requests for medical care we have had for the strays we have already rescued. We are therefore not currently able to take in any more dogs, but we hope we will be able to do so very soon.
As stipulated by the law, the ASPA company transports all captured dogs to their pounds, where they remain for 14 days before being slaughtered. Some local residents who heard about the culling have offered to adopt some of the animals.
In addition to monitoring the situation and in the hopes of freeing up some room to be able to accommodate more dogs shortly, Save the Dogs is continuing to actively seek a dialogue with the local authorities in order to try and put a halt to the capturing and slaughtering of dogs. Our objective is to reach a shared vision concerning truly effective measures that can combat the phenomenon of strays, such as sterilization and fining those who abandon their dogs or refuse to officially register them with the city's public records office.