Save the Dogs' first mission in Ukraine
It was a very early start. It was practically deserted in Cernavoda that morning as we loaded all our supplies and everything we needed for Save the Dogs' first mission to Ukraine. Destination: Odessa, which had been our focal point for the dispatching of relief aid and food for the animals since the beginning of the conflict.
We had been planning to see for ourselves the terrible conditions of the animals we had been told about by our partners in this year of conflict for quite some time.
We seized the opportunity of a reduction in the number of attacks in Odessa at that time to organize meetings with our partners, plan operations for the coming months and evaluate the possible impact of our support.
When we arrived at Isaccea, the Romanian-Ukrainian river border point, we couldn't help but think about the many refugees we had assisted between March and July 2022. This time we were the ones jumping on board and entering a war-torn country.
Once we had crossed the border into Ukraine, we could see collapsed bridges and gutted houses in front of us, and all around us were hordes of cats and dogs just roaming about the streets in search of food and shelter from the bitter cold.
Ukraine has always had serious problem with the number of street dogs and cats and a lack of proper animal shelters and animal nonprofits. However, the outbreak of war and the resulting shortages of money, electricity, and water have broken whatever systems were in place for caring for the animals. I've lived in areas with huge numbers of street dogs in the past, but I've never experienced such a feeling of admiration for the volunteers who dedicate their time to rescuing and caring for the animals. We heard countless times about their decision to stay in Ukraine, even in devastated cities like Mykolaiv, because they didn't want to leave the cats and dogs to starve or freeze to death.
When we finally arrived in Odessa, it was to discover a city that mercifully had not devastated by the conflict, although the streets were deserted and most of the stores were closed up. Nearly everyone here has been out of work for months. Power outages were ongoing, but nevertheless we felt safe and were ready to meet our partners.
Olga's shelter
Together with some volunteers, we visited Olga's shelter, which is 25 km outside Odessa. Olga has been one of our main partners since the beginning of the war. It was a hard and emotional visit. The shelter is underfunded, and it hosts almost 150 dogs, dozens of cats, and unbelievably, dozens of goats that had been abandoned. The dogs live in precarious conditions, in confined spaces built from motley pieces of different fencing and materials such as spring bed mattresses and doors. Some of the animals live in the shade with very limited access to natural light. Olga basically built the shelter with her own hands and using her own funding. We were overjoyed to come across Akella again, a young dog who had been terrified and hungry for days before being rescued by Olga. Despite all the difficulties, he had been saved by the care and affection of the people who rescued him.
Lyudmila's shelter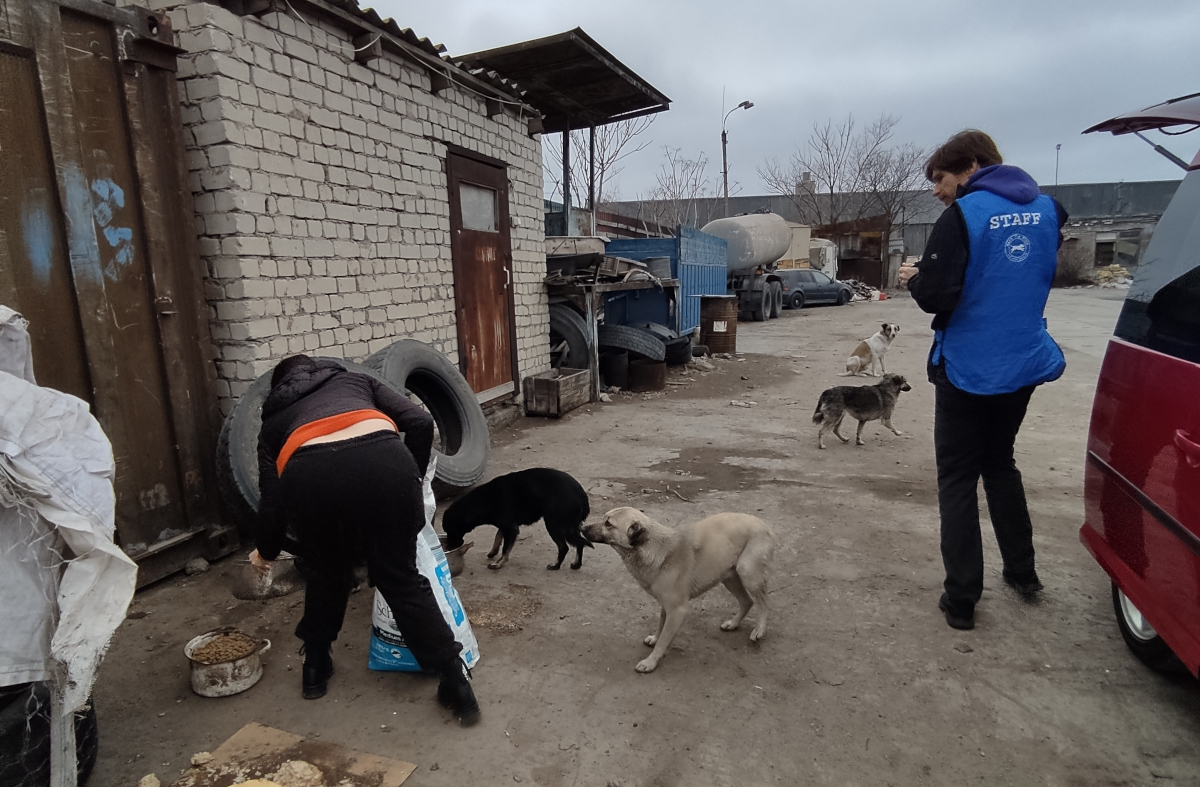 At Lyudmila's shelter, we were able to see where a fire that had taken place at the beginning of the war had destroyed the shelter's entire food storage. Her shelter is well kept, and the animals seem happy. She is doing a great job and her dream is to open a clinic to rehabilitate dogs from injuries and other disabilities. After a long visit, we travelled with her and volunteers she gives our pet food to and saw where they feed animals on the streets and especially areas destroyed by the war. Alla is one of the volunteers living in Zatoka, a war-torn village. Like many people, Alla led a normal life before the war and she and her husband used to run a hotel. With the outbreak of the conflict, they turned it into a refugee center to take in displaced people and the many animals that had been abandoned.
Valentina and her 90 cats
We visited Valentina, who lives in a little apartment in an old communist-style building with more than 90 cats that she rescued, most of them sick and elderly.
She singlehandedly cares for this unbelievable number of animals! With the help of Save the Dogs she is able to feed and care for them all.
Puppies left alone
Together with Zhanna, another volunteer, we went to feed some of the many dogs she looks after, including litters of puppies, mainly in the industrial area in Northwest Odessa. It was starting to snow and it was definitely below freezing. Unfortunately, their situation is dire; they are alone, and are looking for food and protection. Zhanna and some other volunteers are trying to take care of them.
Through hearing people's stories and after seeing things with my own eyes, I feel confident that the food, blankets, dog houses, and other supplies we are delivering every month are essential for the survival of these animals. The volunteers we met said Save the Dogs is basically the only organization providing any support to them.
Countless animals in Ukraine are only alive because of our help.
This mission also gave us the opportunity to meet with veterinarians and to visit some clinics in Odessa. Save the Dogs would also like to begin to do its bit with regard to sterilizing stray animals in a bid to reverse the dramatic escalation of births that run the risk of dying on the streets just shortly after entering the world.