Special relief aid for Save the Dogs from 'Veterinarians Without Borders'
When veterinarian Janet Davis' husband mentioned finding 'Veterinarians without Borders' (VWB) online while looking to adopt a new pet, she was immediately intrigued. She reached out to the charity through their website to learn where and when she was needed.
Janet explained, "I have only been able to semi retire due to the shortage of vets in my area and I can't in good conscience abandon animals that need me. After speaking with my husband and VWB, it was clear there was no place I was needed more than in Romania."
VWB has partnered with various organizations that are able to deploy people in and around Ukraine, including Save the Dogs and Other Animals who are in Cernavoda, Romania, two hours from the Ukraine Border. They have been able to collect and distribute supplies to Refugees at border crossing points that have fled with the pets they could carry. Sadly, there are many stories of those that were forced to leave animals behind.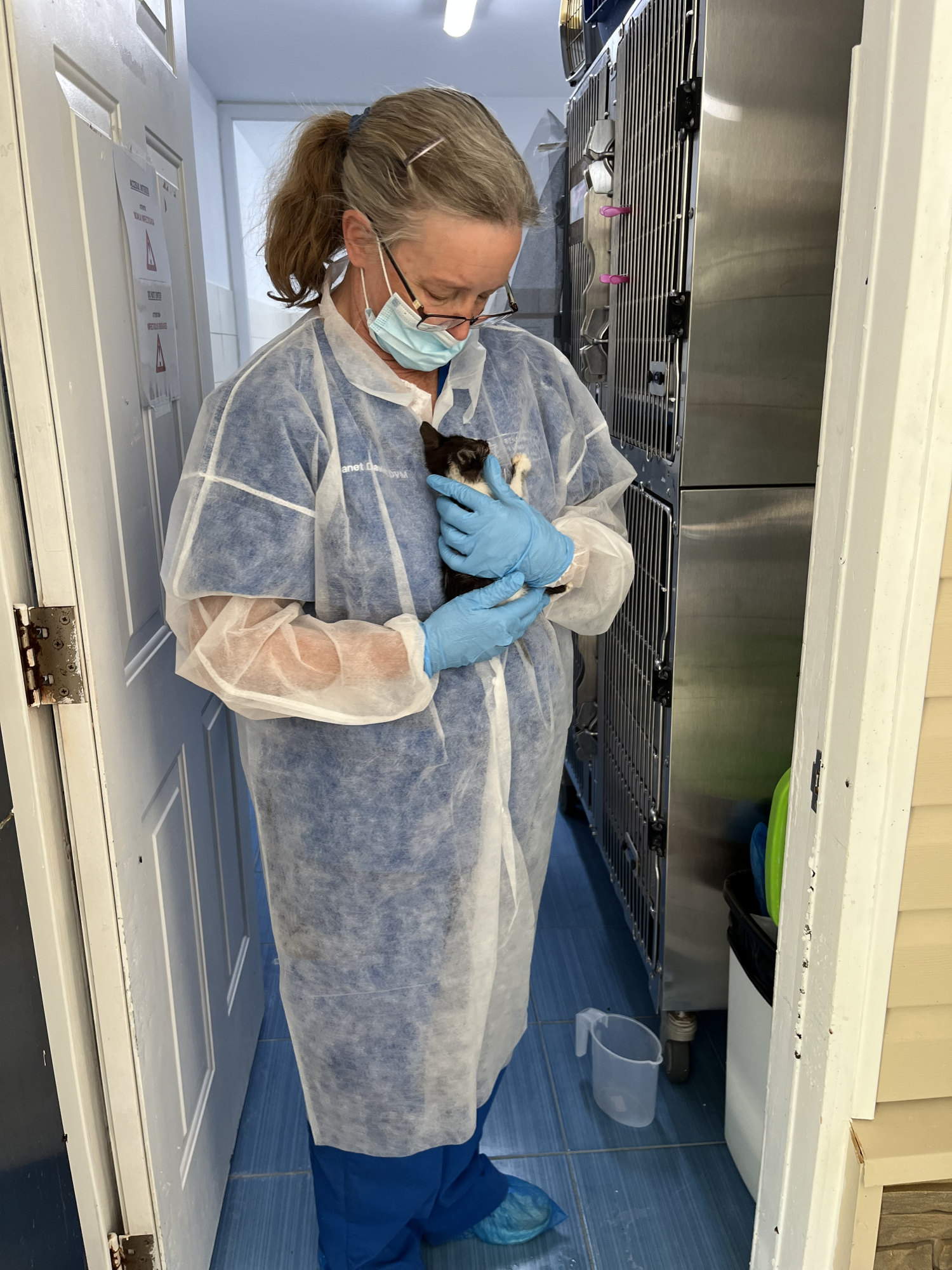 Save the Dogs was contacted by a shelter in Ukraine that had been caring for more than 100 dogs, but their facility had been damaged by shelling (bombing) and they needed to get dozens of dogs out immediately. They met at the border to transfer more than 40 dogs back in March. Sadly, the transfer of animals out of Romania has become virtually impossible since then. Volunteer drivers, petrol shortage, damaged infrastructure and overall logistics are an increasing nightmare for local rescuers. As a result, the easiest relief has been to send in supplies to those feeding the tens of thousands of animals fending for themselves – an ongoing effort being made by VWB through on the ground partners.
Many of the dogs from Ukraine remain at Save the Dogs while they receive ongoing vet care, appropriate vaccinations, and thorough testing before they can be sent out to countries where they can be adopted out. European countries have extensive regulations in place to avoid the spread of disease. The Ukrainian dogs are just a small part of the amazing work that Janet is doing to save animals and prevent suffering in Romania.
Janet says, "One of the most difficult things being here is the seeing just how many animals are on the streets, I was surprised to see them all. We will do more than 40 spays and neuters in a day when we have the staff to tackle it. Animals come from all around the community, owned or found, there are so many to help."
But she also says there are special moments and animals that make the two-month deployment very much worth every moment.
"This tiny, emaciated kitten just arrived at the clinic. Nursing such a tiny baby back from the brink of death, it's something that never gets old. We have named him Toby."
With her 30 years' experience as a veterinarian, Janet is using her semi-retirement to have a truly powerful impact on animals that would not stand a chance without her. The spay and neuter work she is doing now will prevent countless animals from suffering in the future. Along with other visiting vet staff from Singapore, France and local vets, her placement through VWB at Save the Dogs is a small piece of hope and kindness that is worth celebrating.