The "Friends on the streets, companions for life" project: a tangible way of showing support for humans and animals
Poverty and hardship are current realities that are ever on the rise due to a variety of different and complex factors relating to the economy, the recent pandemic and all kinds of problems that result in more and more people finding themselves living on the streets, often with little warning and in a traumatic fashion. It is a difficult situation, particularly when the decision arises not out of choice but through finding oneself in this position out of necessity, due to a lack of support or through not having a social network, or a parachute providing a safer landing. Many homeless people have chosen to share their lives with a dog, offering them a source of affection which in some way mitigates their loneliness and relationship difficulties, but which also creates a series of problems in managing the daily existence of their four-legged companions.
It is for this reason that "Amici di strada, compagni di vita" (Friends on the streets, companions for life") was born. The focus of the project is to assist homeless individuals who own animals, which are almost always dogs, with whom they live day by day on the streets, and who do not exploit them in such a way as to make them a source of pity or worse for passers-by, but for whom they have a genuine affection.
Working in synergy with the association Fondazione Progetto Arca Onlus, which created the very first structure welcoming in homeless people with pets who also want to take the first steps in being reintegrated back into society, Save The Dogs has already started organizing different forms of assistance and support to help improve their living conditions, by providing food for the animals and offering medical care and veterinary interventions.
Having initially opened up the overnight hostels to homeless people with animals, the Municipality of Milan has now reneged on this possibility, which is particularly problematic at this time of year.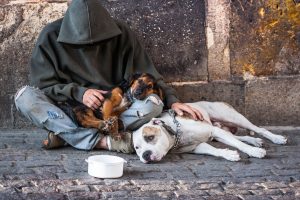 This not only means that homeless people are forced to sleep out on the streets during even the coldest winter nights, but it also prevents them from receiving any of the services that are available to those who normally have access to public assistance. To save these individuals from remaining completely alone, Save the Dogs is striving to bridge the gap by creating a network of organizations that provide assistance and the Municipality, while also collaborating with private organizations that can offer support by supplying the material assistance they require. The aim of the project is to work on mapping out the phenomenon from start to finish, with the goal being not only to improve the daily life of homeless people and their pets as far as possible, but also to facilitate their possible reintegration into a life they can consider worthy of being a "normal" one.
This new project was launched very recently, and has received a lot of attention from the media and from people who are sensitive to the difficulties that living on the street imposes. The goal is to make "Friends on the streets, companions for life" a successful pilot project that can be rolled out in other cities in the future.
The problems of hardship and the inherent difficulties faced by the homeless are present everywhere, but the solutions offered to individuals who have decided to share this life experience with their pets are few and far between. This is why we believe Milan could be a good starting place for overturning prejudices and for finding viable ways to propose not only a possible future but also a brighter present to people with pets who are experiencing difficulties, as is being demonstrated by the first guests welcomed at Cascina Vita Nova, the structure recently opened by the  Fondazione Progetto Arca Onlus.