Ukraine Emergency - Follow our updates
11 April: a month at the border
President Sara Turetta returned to the Ukrainian border to visit the Save the Dogs volunteers who have been taking turns at the fixed refugee assistance point in Isaccea for a month.
We have assisted almost 500 people traveling with pets this last month; these are the pictures of some of the women we have met. 
Many of them couldn't help bursting into tears when telling us about their towns which have been destroyed by the Russians. Nearly 300 pet carriers were distributed to people fleeing with their animals, along with blankets, dog coats, leashes and collars.
The situation in the region of Odessa is getting worse. The number of people leaving the country is increasing and dozens of Ukrainian buses filled with children have driven past our station over the last two days.
To cope with the mounting need for food supplies, we are urgently trying to get 15 tons of cat and dog food to the 4 shelters in Odessa that depend on our help and to the volunteers there who are feeding thousands of stray dogs.
29 March: over 300 refugees assisted at the border
To date, our team at the Isaccea border has assisted 329 people fleeing from war with their pets by offering them assistance and emergency relief aid.
The Save the Dogs staff has been flanked by 9 additional volunteers who have provided their precious support over the past few weeks by working weekly shifts.
In total, 240 pet carriers have been distributed at the border together with leashes, bowls, blankets and food. Another 37 pet carriers have been delivered to the airport of Otopeni in Bucharest, enabling refugees to continue their onward journey by plane with their pets.
The 30 dogs we rescued from a war-damaged shelter in Odessa are doing well.
They are well behaved and socialized and, once their vaccination cycles are complete, we are confident that we will be able to find families willing to adopt some (and hopefully all) of them. The dogs are all medium/medium-large sized and we are looking to have them placed in Sweden and Germany thanks to our partners in both of those countries, where this type of dog is readily welcomed for adoption.
Meanwhile, the situation in Ukraine is unfortunately only getting worse. We know that many shelters that are also taking care of stray cats and dogs urgently need more food supplies. To cope with this growing demand for help, we are trying to rent a bigger lorry so that we can transport as many provisions as possible to the Odessa area, while at our shelter in Cernavoda we are busy setting up a new storage area with tents in order to be able to stock larger quantities of food.
As of today, we have delivered 8.5 tons of food to the 4 shelters in Odessa with whom we are in constant contact, and we have also organized the transportation and logistics at the custom's border of 1.6 tons of food supplies on behalf of another association.
March 23 – 20 days at the border: we continue to assist animals fleeing the war
Twenty days have passed since we first started offering relief aid at the Ukrainian border. Our team has worked nonstop, and additional volunteers have come on board to help assist us every day as we continue to guarantee first aid for refugees arriving with their pets. On average, we have been taking care of around 15 cases per day, with peaks of up to 30 cats and dogs at a time. To date, we have been able to help 215 people, handing out essential supplies such as food, dog blankets and coats, as well as a total of 209 pet carriers, this last item also being distributed at Otopeni Airport in Bucharest.
Over the last few days, a group of veterinary students from Croatia has joined us at the border aid and is offering emergency examinations, any necessary vaccinations and help with documentation needed for entry into EU countries.
We are working closely with them, thereby being able to provide veterinary assistance as well as relief aid. One of the students was in fact the first to spot this cat, wandering round in the vicinity.
He asked us to help and we just had to take Audry, as we named her, to our shelter in Cernavoda.
Thanks to the Romanian Border Police, our team now has a new station covered by a sort of transparent igloo that protects volunteers, refugees and their animals from the cold, but still keeps us visible at all times and from every direction.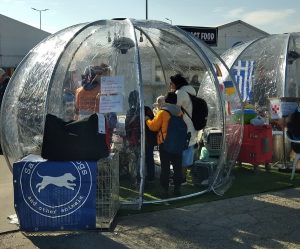 We see people arriving at the border crossing every day who are visibly exhausted and terrified by their flight from the war zones, but we also witness people like this young girl who has been travelling for five days with her dog in order to rescue Ukrainian children who need to be reunited with their families. We offered her and her dog some much-needed nourishment to keep them going.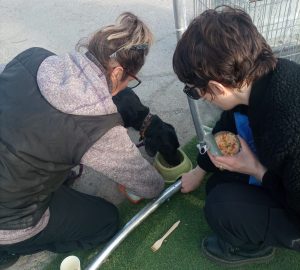 March 22 – Save the Dogs launches an appeal to low cost airlines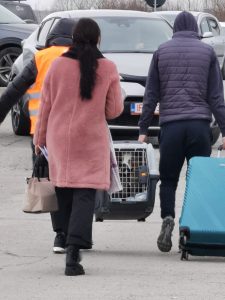 On 12 March Save the Dogs, together with seven other Romanian organizations, launched an international appeal to the low cost airlines, asking them to amend their transportation and boarding regulations, in order that animals and pets arriving from Ukraine may be taken on board with their owners in the cabin, with the only criteria being the safety and comfort of both the individuals and their pets during the flight, rather than adherence to the standard company policy.
Following the launch of the appeal at an international level, Save the Dogs has decided to ask people to help apply further pressure by likewise demanding an amendment of Ryanair, Wizzair and Easyjet's boarding regulations.
They fled the country together, they need to stay together!
Sign the letter of petition with us
March 14 – Save the Dogs is planning to accept 30 dogs
We are daily in contacts with animal shelters in Odessa that have dangerously little dog and cat food. Furthermore, many people who normally feed street dogs have left the city, putting a burden on the shelters to feed street dogs as well as their own animals. We sent a truck with more than a ton of pet food to Odessa on Friday and another shipment will leave today. We'll continue to send tons of pet food to these four shelters as long as it is possible.
One of the shelters we're supporting with food supplies was badly damaged by a Russian airstrike. The manager of the animal shelter Loving Hearts asked us for a further support to bring some of the dogs to safety. Save the Dogs is now planning to accept 30 dogs from her shelter on Wednesday and we'll find adopters for as many dogs as possible.
March 11 – The first shipment has arrived in Ukraine
To our great relief, we have received the good news that our first shipment of food has arrived at its destination in Odessa.
The Russian truck driver had set off from the border point of Isaccea in Romania on Tuesday, risking his own life by volunteering to take the supplies to Odessa, and has now reached the Friends Point and BU Animals shelters, transporting 1,500 kg of dry dog food for the animals there.
This first delivery of relief aid will be fundamental in ensuring a few more days of autonomy for the cats and dogs at these two shelters, as well as feeding the stray dogs who will also be given some of the food supplies.
This first shipment sent on Tuesday evening will be followed by others. The last one was delivered last night to four shelters: Friends Point, BU Animal Shelter, Rukavichka and Loving Hearts.
Lyudmila, the manager at the Friends Point shelter, has sent us photos of some of the animals they are looking after, together with the food that has just arrived.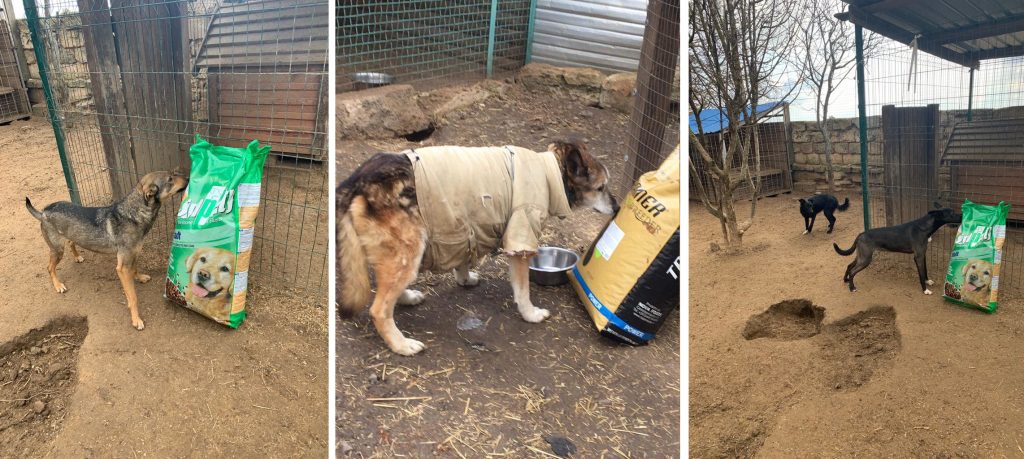 March 10 – Pet carriers delivered to the Otopeni Airport in Bucharest
During the last two days Save the Dogs has provided animal carriers, bowls and wet food to Ukranian refugees in transit through Otopeni airport in Bucharest with their animals. There have been rumors of pets dumped around the airport because low-cost companies do not accept pets in the cabin. Even if we have no official confirmation of such episodes, we know that many refugees are struggling to leave because of the rules of companies like Wizzair and Ryanair.
We urge them and all other companies who do not allow pets in cabin to change these rules as fast as possible, to prevent more suffering of people and animals during this humanitarian crisis.
March 9 – The first shipment of food has left for Ukraine
Yesterday evening, the first shipment of food left for Odessa. Thanks to the cooperation of the Romanian authorities at the Isaccea border point and the transporters who volunteered to drive cross the border, the food we had assembled has also been dispatched along with other humanitarian relief aid.
We are extremely relieved to know that this first load of 1.5 tons of food will be delivered to two shelters – Friends Point and BU Animal Shelter – which respectively accommodate around seventy dogs and ten cats. Volunteers at these shelters are also taking care of local strays and have reported back to us that they will generously share what they have with other shelters that they know are at their wits' end, some of whom with only a week's worth of food remaining.
We desperately hope that we will be able to continue sending food to shelters in need, but the situation is constantly changing.
8 March – As of this morning, Save the Dogs has a fixed base at the border point of Isaccea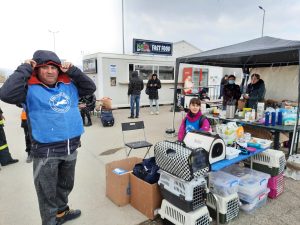 Save the Dogs has set up a permanent base at Isaccea's border crossing from today. We have established an agreement with the civil defense team and the local authorities enabling us to set up our own aid relief station because, from what we have understood, the number of refugees entering the country will increase exponentially over the next few days.
Three of our team members will be on hand to distribute emergency aid to all the animals fleeing the war together with their owners, principally in the form of pet carriers, blankets, impermeable dog blankets and food.
Furthermore, we are in close contact with the Bucharest airport authorities, where we would like to be able to stock much-needed animal carriers for cats and dogs so that those on the move with their pets can more easily continue their journey.
7th March – Direct aid for Ukraine – The first food shipment is ready
In addition to providing direct aid for people crossing the borders with their animals, the Save the Dogs team has succeeded in reaching an agreement with the local authorities and organizing the first shipment of food to Ukraine during their second day at the border point of Isaccea. Run entirely by volunteers and managed by the Romanian local government, emergency relief assistance is being prepared by the humanitarian organizations in agreement with the Ukrainian regional and municipal authorities.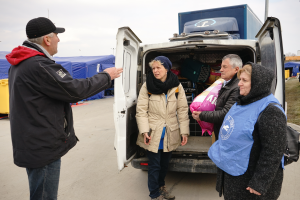 As a result of much networking and the compassion that a group of customs officials have for animals, 1,500 kg of food are now waiting to be dispatched to southern Ukraine. This first shipment will be sent to two organizations: the BU Animal Shelter, which has only 15 days' worth of food left for its 60 dogs and 10 cats, and the Friends Point shelter, a larger structure which has a month's supply of food and which is currently also looking after a number of stray dogs, who are the least protected animals and those most at risk of dying of starvation. It has been a race against time to assemble the consignment. The food should have left earlier today, but due to a delay in the preparation of humanitarian aid, our food parcels are still waiting to be shipped. With every passing day, the possibility of our assistance arriving at its destination is diminishing due to the escalation of fighting in the south and the inevitable spread of the conflict towards Odessa.
We'll send you an update just as soon as this first shipment gets on its way.
4th March – At the border of Isaac on the Danube to bring aid to refugees with animals
"The situation in Ukraine is very serious and the news that arrives is disarming you, a conflict that also involves animals and that sees us engaged on the front line to offer our concrete help. 7 of us left our headquarters in Cernavoda in the direction of Isaccea, a river border point on the Danube where many refugees are arriving by boat, to bring essential aids such as medicines, food, pet carriers, blankets and coats for animals fleeing away from the war. " Sara Turetta – President of Save the Dogs
3rd March 2022 – Markariv (Ukraine), the Best Friends shelter hit by a grenade
We were deeply saddened to learn that the Best Friends shelter in Markariv – a settlement near Kiev – has been hit by a grenade, causing very serious damage to the structure.
Almost half of the dogs have had to be discharged and have been released from the shelter. Food is scarce and the refuge is located in an area where fighting is very intense. As it is currently impossible to provide direct onsite assistance, Save the Dogs has decided to send the funds which have already been donated for the Emergency Fund to the shelter. We are trying to contact the people who have remained to take care of the animals in order to find out what assistance they require, but it is proving extremely difficult to establish any telephone connections.
At the time of the attack, there were 267 dogs, 157 cats, 2 horses, 1 goat, 2 raccoon dogs, 1 wolf, 2 crows, and 1 pigeon at the shelter.
Gregg Tully, Country Director of Save the Dogs Romania together with the staff while preparing the aid to be taken to the border
Providing assistance is extremely complex
It is currently very complicated to try and enter Ukraine. We know that humanitarian and animal supplies are being picked up at the border point north of Romania.
When we reach the border south of Ukraine tomorrow we will attempt to determine how the emergency aid is being organized and check if it is indeed possible to get the vital supplies for the animals delivered to where they are needed within Ukraine.
The emergency aid we will provide
We will be providing food, cages to transport dogs, cat carriers we can donate to families in transit, basic medical supplies, wool blankets and coats for dogs of all sizes.
The temperature has dropped significantly, so it is critical that we ensure the animals receive everything they need to survive this crisis.
We will also be distributing brochures in three languages regarding local civil rights, and will give these documents to incoming families with animals, informing them that:
1) we will welcome cats or dogs that are unable to continue their journey to our Cernavoda center, either temporarily or permanently
2) we can assist with passports and other documents so that the pets can travel without any problems
3) we will admit and treat any animals with diseases that need medical assistance.
2nd March – Save the Dogs launches an Emergency Fund to support animals in need in Ukraine
In coordination with other associations, over the last few days Save the Dogs has been closely monitoring the situation regarding the animals involved in the dramatic conflict in Ukraine. The current scenario is extremely uncertain and is constantly evolving, making it very difficult for us to ascertain exactly what kind of assistance can be given to associations working in Ukraine at this moment in time.
More than 70,000 people have already arrived in Romania, seeking refuge. A great number have also brought their beloved pets with them.
For this reason, Save the Dogs has decided to launch a fund-raising campaign and create an Emergency Fund which we can subsequently deploy as and when it is most needed.
Immediately, on the south-eastern border with Ukraine to animals arriving with their owners and in the long term to the shelters that need them most.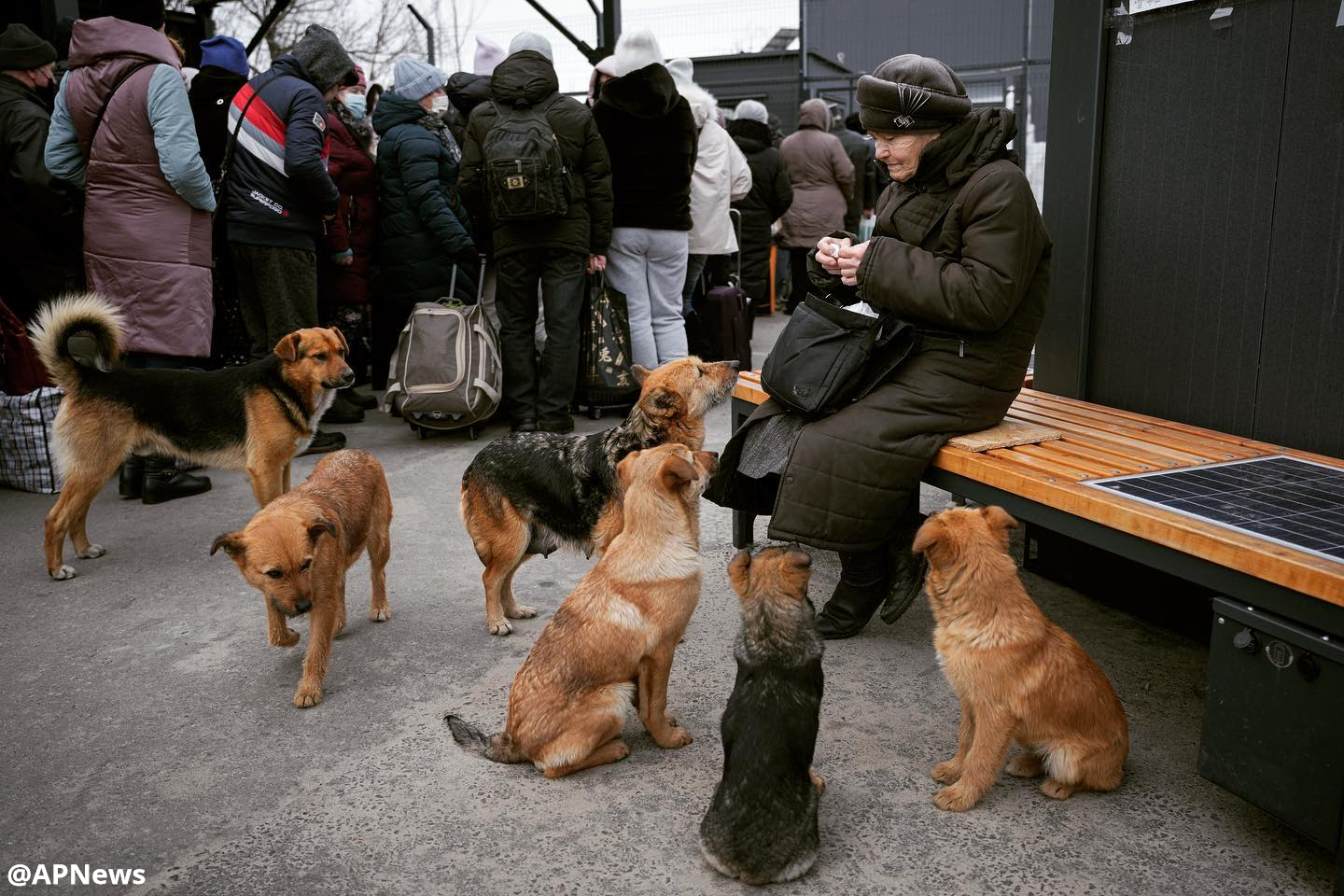 27th February 2022
The conflict in Ukraine has triggered a dramatic exodus of people who, deprived of their security and terrified by the bombardments, are trying to save themselves and their most precious possessions, including their beloved pets.
To date, at least 300,000 Ukrainians are crossing the borders into the European Union.
57,000 refugees have reached the frontier with Romania, and there are enormous queues, some 15 kilometers long, in the north-east part of the country.
Save the Dogs is closely following the situation as it evolves in order to assess the impact on the animals and be able to identify any potential emergencies.
President Sara Turetta left for Romania this morning so that she can be on site to get a better understanding of how we can help the animals.
The situation is far from clear, but we at Save the Dogs will absolutely do our part to assist where we can. Over the next few days we will update you on what can be done to assist these animals.