Ukraine – Our ongoing commitment
"We chanced upon Sheva in Shevchenko, a village in Ukraine that is permanently under attack. We took him away with us, looked after him and found him a family to live with
". This message was sent to us by Tatiana, one of the hundreds of volunteers in Ukraine who, over the past few months, have continued to give food and assistance to the people and animals who have been left behind during the conflict.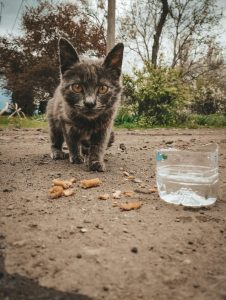 Sheva the kitten is just a couple of months old, who ended up all alone and trying to survive out on the streets. His expression, which shows his uncertainty about whether or not he can trust anyone, has become for us the symbol of all the animals who were left alone during the war and whom we have been assisting for months via a whole range of interventions.
The most recent of these was led by Adriana Susmă, General Director of our Footprints of Joy center, who managed to cross into Ukraine at the end of June. "It was an impromptu trip to deliver food supplies. We couldn't find any transporters, so I said 'OK, I'll do it myself'", she recalled as she told us about the days leading up to her trip. Together with two volunteers, Adriana travelled to Izmail in the south of the country, close to the border with Romania, and successfully delivered 48 bags of cat food and 20 bags of dog food, a total of 1,040 kilos of food for the animals. Supplies which were essential for relieving the Mika association, which is active in that area.
"We worked non-stop for 17 hours", she wrote. "In psychological terms, it was a very intense experience". Her account is a succession of images that will always remain vivid in her memory: "Now I understand why the Ukrainian national flag looks like it does", she continued. "While we were driving along the motorway, we passed a virgin expanse of sunflowers, the brightest yellow flowers I have ever seen. And above them was this immense blue sky, perfectly calm and clear".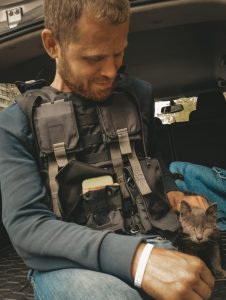 Mile after mile, however, this wonderful spectacle gradually made way for the reality: an endless queue of cars entering and leaving the town; sirens suddenly starting to wail; a silent but ever present military presence.
And those puppies. "We were about to leave Izmail when we spotted them. We immediately went over to feed them, as we still had some food left over. It was a sight for sore eyes: there were lots of mothers with pups all about the same age", she explained as she took a few minutes to reflect on the scenes she had witnessed.
The expressions in the eyes of those puppies inevitably reminded us of Sheva, and in fact we have been thinking about and discussing the need to start a sterilization and birth control program in Izmail and throughout the whole region. One day, as soon as the situation allows us to do so, we really want to put the idea into practice.
For the time being we will continue to send aid to any and all of the eleven shelters in the south that ask for our help, and together with Adriana we plan to take another delivery to Ukraine. "I've no idea what the future holds in store – she concluded – "but I do know for sure that another 20 tons of food will be leaving here soon. And if need be, I'll take it there in person".